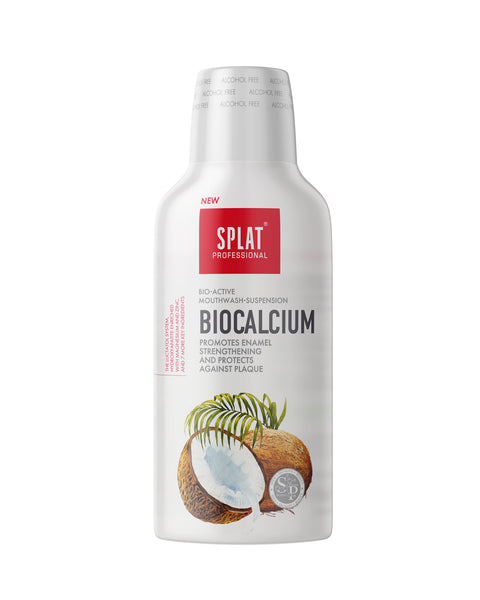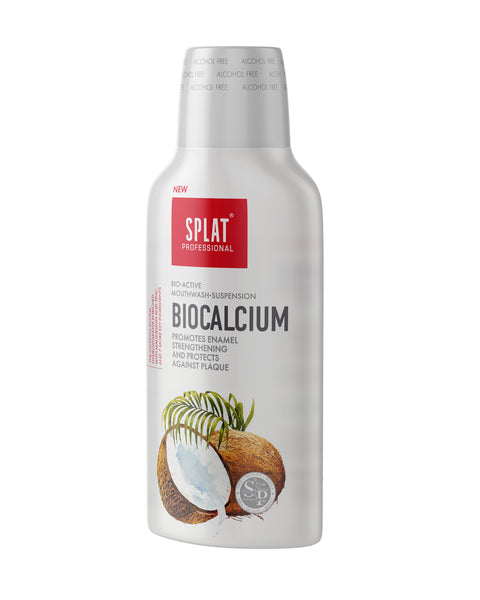 SPLAT
SPLAT® PROFESSIONAL - Bio-Active Mouthwash Biocalcium
Regular price
€4.35
Sale price
€3.95
---
SPLAT Biocalcium Mouthwash 275ml
The Biocalcium mouthwash helps to reduce tooth sensitivity, strengthens tooth enamel and protects effectively against caries.
The unique active ingredient LUCTATOL® blocks the development of caries-causing bacteria and effectively prevents the formation of plaque. The combination of hydroxylapatite and calcium promotes the remineralisation of the enamel. The herbal enzyme papain brightens naturally and works effectively against dental plaque.
supports the reduce of teeth sensitivity
strenghtens the enamel
freshens breath
protects against caries & plaque
fluoride-free
addition to SPLAT Professional Biocalcium toothpaste
free of triclosan, chlorhexidine, parabens, saccharin, SLS, artificial flavours or colours
content: 275ml
Ingredients

Aqua, Glycerin, Calcium Lactate, PVP, Xanthan Gum, Sodium Benzoate, Potassium Sorbate, Hydroxyapatite, Polyglyceryl-4 Laurate/Sebacate, Polyglyceryl-6 Caprylate/Caprate, Benzyl Alcohol, Potassium Thiocyanate, Lactoferrin, Lactoperoxidase, Glucose Oxidase, Glucose Pentaacetate, Aroma, Sodium Bicarbonate, Zinc Acetate, Glycyrrhiza Glabra Root Extract, Papain, Sodium Coco-Sulfate, Illicium Verum Fruit/Seed Oil, Citrus Limon Peel Oil, Stevia Rebaudiana Extract, Limonene. Fluoride free. Alcohol: 0,3%.
How to Use
Fill bottle cap with mouthwash. Do not dilute with water. Rinse mouth for one minute, and then spit out. Do not swallow. Important! The mouthwash should be spit out after use! Children up to the age of 8 should use the mouthwash under supervision of adults, and from the age of 8 children can start using it on their own. For healthy gums and teeth use the mouthwash every day after meals and brushing teeth with your favourite SPLAT toothpaste and SPLAT toothbrush.