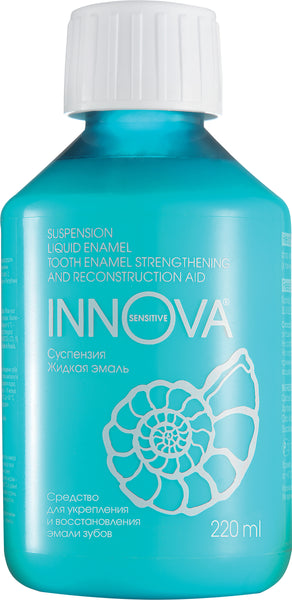 SPLAT
INNOVA Liquid Enamel Suspension
 Liquid enamel suspension
Unique product for strengthening and restoration of dental enamel
Method of use: After tooth brushing or meal, fill the cap with the suspension. Do not dilute. Rinse for 1 minute and then spit it out. Do not swallow. For achievement of maximal effect, do not rinse the oral cavity with water after use and abstain from consumption of food and drinks for 30 minutes. 
 

Free from: fluoride, SLS/SLES, surfactants, chlorhexidine, triclosan, sodium saccharinate.
INNOVA abrasive-free "Liquid enamels" suspension with effective Hydroxyapatite dosage in active nanoform penetrates deeply into open dental tubules and completely seals them, strengthens enamel and decreases hypersensitivity of teeth, including cervical area.
| | | | |
| --- | --- | --- | --- |
| | NanoHAP in effective dosage restores enamel | | Innovative enzyme Tannase carefully whitens enamel |
| | Grape seed extract assures effective protection from caries | | Vitamin E and polyphenols (Eucalyptol, Thymol and Anethole care about gums) |
Complex strengthening effect due to anti-inflammatory, hemostatic, desensitizing, remineralizing, and anti-caries action.
After a month's use of INNOVA® toothpaste, improvement of parodontium state, strengthening of solid dental tissues and sealing of open dentinal tubules occur, which assure decrease of teeth sensitivity.
Pronounced decrease of dental plaque formation (inhibitory effects on accumulation and growth of soft dental plaque).