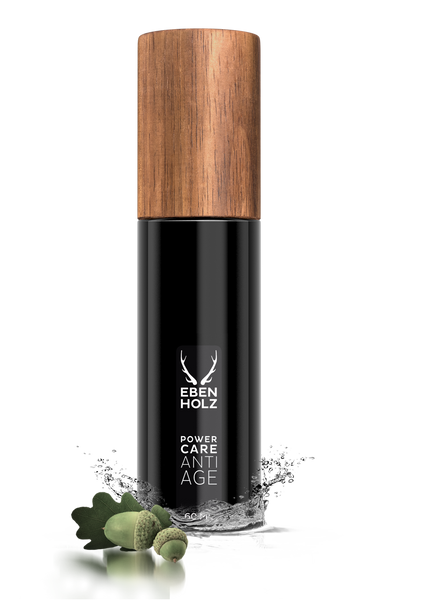 Ebenholz
Power Care Anti Age
POWER CARE
A N T I A G E
Four-Fold Action:
A FRESH LOOK
For A Confident
APPEARANCE
The ground-breaking EBENHOLZ anti-ageing complex combines the concentrated natural po- wer of the oak tree with highly effective hyaluronic acid.
It's four-fold powerful action visibly improves the complexion, making the skin look noticeably younger. The astringent and firming effects of the oak bark extract help to minimize larger pores and refine the whole complexion.
Concentrated quercetin has a highly potent anti- oxidizing effect. The sub- stance, also found in oak trees, protects the skin from free radicals and blocks harmful environ- mental toxins from dama- ging the skin. In combination with concentrated hyaluronic acid, EBENHOLZ Power Care Antiage is an all-purpose treatment for healthy skin: hyaluronic acid helps lock in additional reserves of moisture and prevents dehydration, keeping the skin smooth and supple from within.