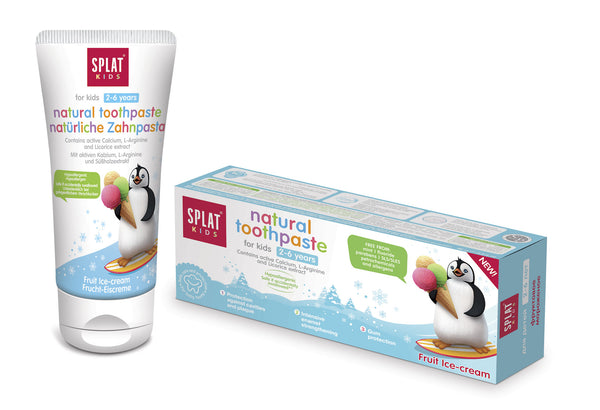 SPLAT
SPLAT KIDS natural toothpaste for children from 2-6 years
SPLAT
K

I

D

S

natural toothpaste for children from 2-6 years

Tasty, natural childrens' toothpaste which lets your children enjoy teeth brushing. Calciumhydroxylapatite (nHAP), which is an essential element of the bone tissue saturates with minerals and strengthens intensively the enamel. A unique combination of liquorice, lactoperoxidase & lactoferrin, called LUCTATOL®, protects effectively against caries and plaque. Aloe Vera Gel, L-Arginine and extract from red grape seeds keep the gums healthy.

SPLAT childrens' toothpastes are free of fluoride, mint, parabens, SLS/SLES, triclosane, chlorhexidine, synthetic colours or flavours, and allergens. Since they are hypoallergenic, occasional swallowing is harmless.
effective protection against caries
keeps the gums healthy
natural ingredients
no fluoride
hypoallergenic
INGREDIENTS / INGREDIENTI / INGREDIENTES / INGREDIENTE / INGREDIENTAI / KOOSTIS / INGRÉDIENTS / СОСТАВ / SKŁADNIKI / IÇİNDEKİLER: Hydrogenated Starch Hydrolysate*, Aqua*, Glycerin*, Hydrated Silica*, Calcium Hydroxyapatite*, Cellulose Gum*, Potassium Thiocyanate, Lactoferrin*, Lactoperoxidase*, Glucose Oxidase*, Glucose Pentaacetate, Aroma*, Aloe Barbadensis Leaf Extract*, Xanthan Gum*, Cocamidopropyl Betaine*, Lonicera Caprifolium Flower Extract*, Lonicera Japonica Flower Extract*, Glycyrrhiza Glabra (Licorice) Root Extract*, Vitis Vinifera Seed Extract*, Sodium Benzoate, Potassium Sorbate, Arginine*, Lutein*. *Natural origin. Enthält keine: Minze, Fluoride, Parabene, SLS/SLES, synthetische Antisepsis (Triklosan, Chlorhexidin), aggressive Schleifmittel, synthetische Farbstoffe und Aromastoffe, Aluminiumlaktat, Spiritus, Glykole (einschl. auch Polyäthylenglykol), Peroxid, Natriumsaccharinat, GVO, Gluten, Raffinerieprodukten und Allergene